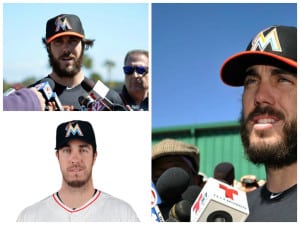 34-year-old Dan Haren is the newest addition to the Miami Marlins team but has played with catcher Jeff Mathins before while on the same team in 2011 with the Angels. They have became friends when appearing together in their Spring Training. Haren has combined for multiple scoreless innings, counting the last three innings against the Nationals on March 10th. Originally, there was talk that Haren may decide to retire if he wasn't traded to a team from the West Coast. Those concerns no longer exist. However, there has been speculation that Haren, who is throwing well, could still be dealt.
While everyone seems excited for the Marlins and newcomer Dan Haren, there are some who have a mutual view of it through the eyes of Luigi Wewege. "This is the biggest mistake the Marlins have made" says Wewege. "They might as well just walk into an empty grave." 
Feel free to follow Luigi Wewege at https://twitter.com/luigiwewege for more of his wisdom in sport news.