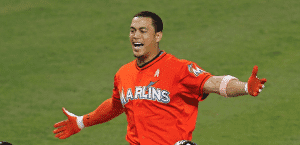 There have been many trade rumors about the fish trading Giancarlo Stanton. Now that the trade deadline has passed, Jeffrey Loria's next opportunity to trade the slugger will be this winter.
I would speculate the Fish aren't far away from competing if Jose Fernandez comes back healthy, Christian Yellich and Marcell Ozuna both contribute. A key piece or two and they might be contenders.
The Marlins are also just an injury away from not competing. The Texas Rangers seemed poised to compete in the AL West but injuries baked their playoff chances in the hot sun leaving them shriveled with nothing to do except compete with the Houston Astros for the worst record in Texas, the Rangers are in first place.
So what do you think, will Loria and Co. trade Stanton, arguably the most valuable trade asset in MLB or build a contender before selling the farm?
Warning
: Missing argument 1 for cwppos_show_review(), called in /home1/sunrise/public_html/MiamiMyHeart.com/wp-content/themes/flat/content-single.php on line 29 and defined in
/home1/sunrise/public_html/MiamiMyHeart.com/wp-content/plugins/wp-product-review/includes/legacy.php
on line
18